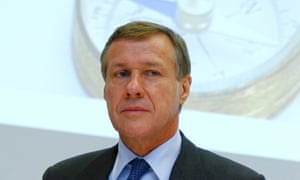 The former chief executive of Zurich Insurance has killed himself, the company said on Monday, less than three years after the company's chief financial officer also took his own life.
The death of Martin Senn, 59, takes the number of suicides by executives at Switzerland's biggest companies to five in just eight years.
Senn was chief executive of Zurich in 2013 when Pierre Wauthier, the insurer's chief financial officer, killed himself.
Zurich, Switzerland's biggest insurer, said it was "stunned and deeply shaken" by the death of Senn, who was chief executive between 2010 and 2015.
[adinserter name="Block 4″]
In a statement it said: "Martin Senn's family has informed us that Martin committed suicide last Friday. With Martin, we lose not only a commendable former CEO and valued former colleague, but also a good-hearted friend. Our thoughts are with his family, to whom we express our deepest condolences.
"Out of respect for Martin and out of consideration for the family, we will not make any further comment."
Police in the canton of Grisons confirmed they had responded to a case but gave no further details.
Senn resigned from the company on 1 December last year after a failed takeover bid for the British insurer RSA and a series of profit warnings. Zurich walked away from the £5.6bn deal after suffering £175m of losses from an explosion at the Chinese port of Tianjin and problems in its US car insurance division.
At the company's annual meeting in 2014, Senn spoke about the death of Wauthier. "The grief and shock we experienced at the suicide of our colleague Pierre Wauthier was enormous," he said.
[adinserter name="Block 4″]
The suicide prompted a company-wide inquiry into workplace pressure, with Zurich's then chairman, Josef Ackermann, resigning after he was 
named in Wauthier's suicide note
.
The note, addressed "to whom it may concern" described how Wauthier had become demoralised by what he called a new, more aggressive tone at Zurich.
Two independent investigations directed by Swiss regulators found no indication he had been subject to undue pressure by decision-makers at the company